VGOD POD 4K R Disposable Pod Device
The future of vaping is here as we introduce a cutting edge disposale.

VGOD POD 4K R Disposable Pod Device
4000 Puffs, 8ML Prefilled Nicotine Salt, 550mAh Rechargeable
Description
VGOD is proud to bring you the POD 4KR, everything you enjoy about vaping in a design that meets your lifestyle. The rechargeable disposable that delivers like a tank, classic VGOD feel in a modern design.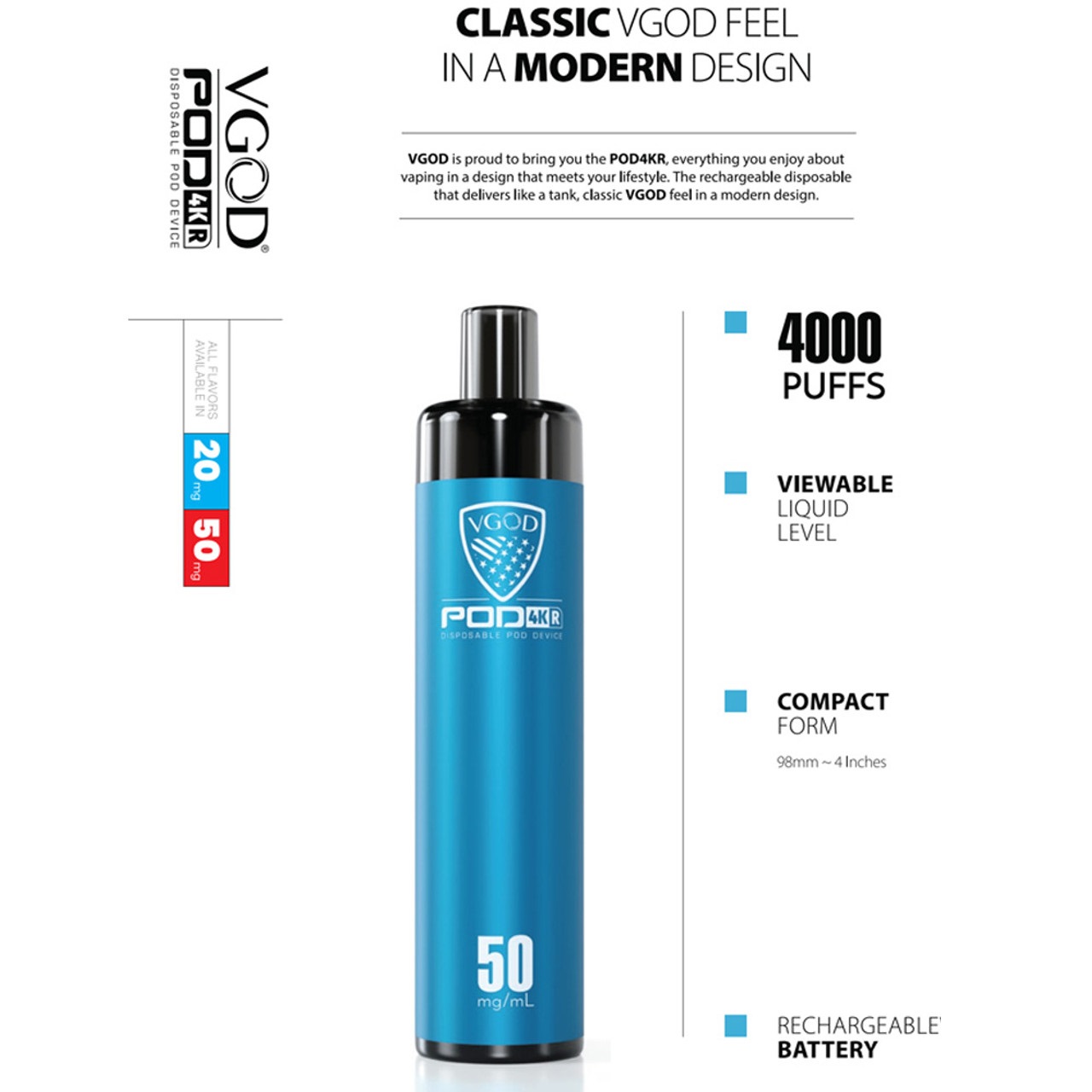 Flavors:
Tropical Mango
By SaltNic A sweet mango with a hint of zing in every puff providing a refreshing fruity flavor to satisfy your palate all day!

Mighty Mint
By SaltNic Refreshing cool mint providing the perfect amount of menthol for an irresistible all day vape.

VGOD Cubano
A smooth cubano cigar with a drizzle of creamy vanilla, providing a fresh and rich Cuban tobacco flavor.

VGOD Dry Tobacco
Dry Tobacco is a simple and classic sweet tobacco vape flavor.

VGOD Iced Purple Bomb
A delicious grape flavor and a frosty chill for the finish.



Specifications and Features
Battery: 550mAh Rechargeable via USB-C (USB-C cable is not inlcuded)
Puffs ~4000 Puffs
Input Voltage: 3.7V
E-liquid Capacity: 8ML
Nicotine: 50mg/ml
You Will Receive:
This product includes:
VGOD POD 4K R Disposable Pod Device x 1

NOTE for Japanese Customers: VGOD POD 4K R Disposable Pod Device is ~4000 puffs. Max quantity of one order is 3 qty due to custom restriction (should not be greater than 12000 puffs)

Get Reward Points (5% value of the price) on purchasing this product!!