528 Custom Vapes Goon V1.5 RDA ** Authentic ** (JAPAN Domestic Shipping)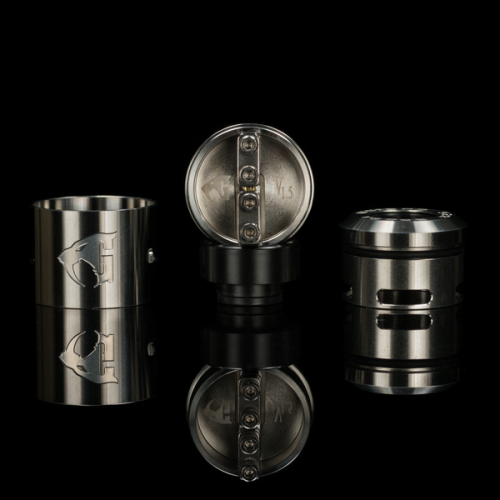 Current Shipping Promotion (Shipping from USA)
Domestic Discount Shipping discount over $30 order (US/DPO/APO/FPO only)
*Shipping rate is based on the weight and/or subtotal
International Shipping Discount! Over $40 Order
*Note1: Please refer to this page about shipping methods or contact us.
*Note2: Insurance policy does not cover the shipping or postage cost.
Japan Domestic Shipping
Write a Product Review and get reward points!
* Reward points 50 points or more are granted once Review is approved
* Reward points are granted to the review for product you purchased.
One of highest quality build, The Goon V1.5 combines the best aspects of the Goon and the Goon LP. Great vaping production and flavor and very reasonable price.
This item is for JAPAN Domestic Shipping only
528 Custom Vapes Goon V1.5 RDA ** Authentic **
Description
The Goon V1.5 RDA is the latest RDA from the minds of 528 Customs. The Goon V1.5 combines the best aspects of the Goon and the Goon LP.
This 24mm RDA kept the clamp style build deck of the original Goon and adds the improved airflow control found on the Goon LP. The conical shaped cap is sure to bring you maximized flavor potential while providing a huge build space and a easy to build clamp style build deck to accommodate whatever type of build you throw its way.

The Goon V1.5 has had its build space increased both vertically and horizontally compared to the Goon V1.
Another notable change is the domed interior top cap which was designed for enhanced flavor and steals the easily adjustable Cyclops style airflow inlets like on the Goon LP RDA. The Goon name brings notable features of quality such as a stainless steel bridge, stainless steel clamps, stainless steel clamp screws, and PEEK insulators.

Specification
24mm
Larger build space vertically and horizontally than the Goon V1
Cyclops airflow
Domed interior topcap for better flavor
Wide Bore drip tip
Standard 510 connection
Gold plated brass 510 pin
Stainless steel bridge post
Stainless steel clamps
Stainless clamp screws
Hybrid safe
Peek insulators
Positive and Negative bridges are easily replaceable
Package includes one set of allen key screws, allen key tool, one set of hybrid phillips/flathead screws, stainless steel squonk pin and extra o-rings
You Will Receive:
1 x Goon V1.5 RDA
1 x Spare parts package
Option
Color: Please chose Color
Shipping
Shipping From
JAPAN
Get Reward Points (5% value of the price) on purchasing this product!!