Coil Master Coiling Kit V4 - Black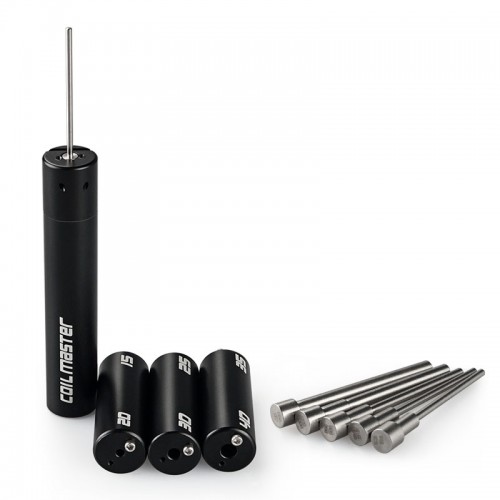 Current Shipping Promotion (Shipping from USA)
Domestic Discount Shipping discount over $30 order (US/DPO/APO/FPO only)
*Shipping rate is based on the weight and/or subtotal
International Shipping Discount! Over $30 Order
*Note1: Please refer to this page about shipping methods or contact us.
*Note2: Insurance policy does not cover the shipping or postage cost.
Write a Product Review and get reward points!
* Reward points 50 points or more are granted once Review is approved
* Reward points are granted to the review for product you purchased.
Coil Master Coiling V4 Kit - Black
Description
This is 2016 newly released Coil Master V4 coiling kit
Like before, with the double-sized top caps and the larger size, simply slip in any gauge wire, spin the cap away to your desired resistance and voila!
And the Coiling Jig V4 Just Make Coil Building Much More Easier!
The main changes are:
1. A silicone holder is added to store the parts.
2. A Wide slot is added to hold up ribbon and wire.
The Coil Master Coiling Jig V4 – 6 in 1 is a great accessory to own!

Specification

Material: 302 Stainless steel & ceramic
Magnetism: Non
Surface treatment: Matt finish treatment
Package:
1 x BASE
1 x Silicone Holder
6 x Coiling Poles(1.5, 2.0, 2.5, 3.0, 3.5, 4.0mm)
3 x Top covers
1 x coil master coiling kit bag
Features
Large size jig for a more ergonomic fit in your hand
Longer pole for easy coil alignment
Easy coiling in two directions Clockwise or anti-clockwise coiling
Get Reward Points (5% value of the price) on purchasing this product!!