Jmate PCC - Portable Charging Case for JUUL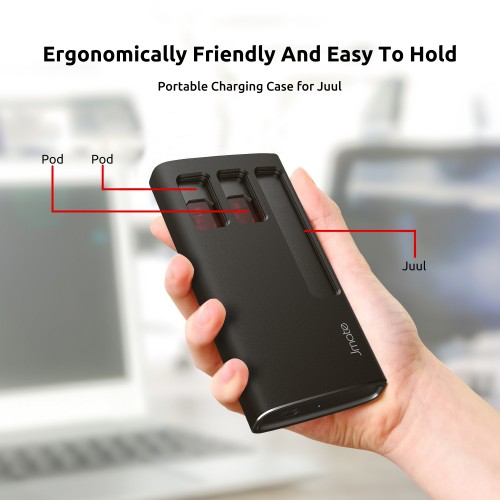 Ultra Portable Charging Case for your JUUL DAY-TO-DAY use
Jmate PCC - Portable Charging Case

Description
Jmate Portable Charging Case not only holds your JUUL, but charges it as well and can hold up to two Juul pods.
Specification
Model: PCC
Dimension: 100*56*12mm
Material: Aluminium Alloy + Plastic
Capacity: 1200mAh
Input: 5V 1A
Output: 5V 500mAh
Compatible with: JUUL
Pod Storage: Two ( ** Pods are not included ** ) Note: The pod storage is based on the length of authentic JUUL pod. So if you store a compatible pod that is longer than one made by JUUL, it won't fit perfectly.

You Will Receive:
1 x Jmate PCC
1 x USB cable
Features
Ultra Portable Design & Very Easy To Use
Solid Build Quality
Keeps The Juul & Pods Securely In Place
4x Juul Charge On Fully Charged PCC Battery
90 minutes to fully charge PCC
40 minutes to fully charge a Juul in the Jmate.
Get Reward Points (5% value of the price) on purchasing this product!!