Nitecore Digicharger D2
The world's most advanced fully-automatic digital charger.
Nitecore Digicharger D2
Description
The Nitecore D2 is a universal smart charger compatible with almost all cylindrical rechargeable batteries, thus eliminating the need to own several chargers. The D2 automatically detects Li-ion, Ni-MH and Ni-Cd batteries, and through manual selection is also capable of charging LiFePO4 batteries. Intelligent charging circuitry selects the optimal charging mode (CC, CV and dV/dt) for a given battery and each of the D2's two microcomputer-controlled charging slots then monitors and charges the battery independently. Furthermore, an integrated digital LCD screen clearly displays charging progress, voltage, current and time while an intelligent automatic power-off function terminates current when charging is complete. The Nitecore D2: The world's most advanced fully-automatic digital charger. It's as simple as insert, detect and charge.
Specification
Input: AC 100-240V 50/60Hz 0.25A(MAX), DC 12V 1A
Output voltage: 4.2V ±1% / 3.7V ±1% / 1.48V ±1%
Output current: 500mA x 2
Compatible with: Li-ion / IMR / LiFePO4: 26650, 22650, 18650, 17670, 18490, 17500, 18350, 16340(RCR123), 14500, 10440), Ni-MH / Ni-Cd: (AA, AAA, AAAA, C)
Dimensions: 5.63" × 2.91" × 1.42" (143mm× 74mm×36mm)
Weight: 5.93oz (168g) (without batteries and power cord
Features
Capable of charging 2 batteries simultaneously
Each of the two battery slots monitors and charges independently
Compatible with and identifies Li-ion (26650, 22650, 18650, 17670, 18490, 17500, 18350, 16340(RCR123), 14500, 10440), Ni-MH and Ni-Cd (AA, AAA, AAAA, C) rechargeable batteries
Optimized charging design for IMR batteries
Integrated LCD panel clearly displays charging parameters and progress
Two conveniently located side buttons allow easy selection of specific battery types and charging parameters
Intelligent circuitry detects the battery type and status before entering automatic charge mode (CC, CV, dV/dt)
Automatically detects battery power status and selects the appropriate voltage and charge mode (with the exception of LiFePO4 batteries which require manual selection)
Compatible with LiFePO4 batteries
Compatible with small capacity batteries
Automatically stops charging when complete
Features over-charge prevention to protect batteries
Features temperature monitoring to prevent overheating
Made from durable ABS (fire retardant / flame resistant)
Features reverse polarity protection
Designed for optimal heat dissipation
Certified by RoHS, CE, FCC and CEC
Insured worldwide by Ping An Insurance (Group) Company of China, Ltd.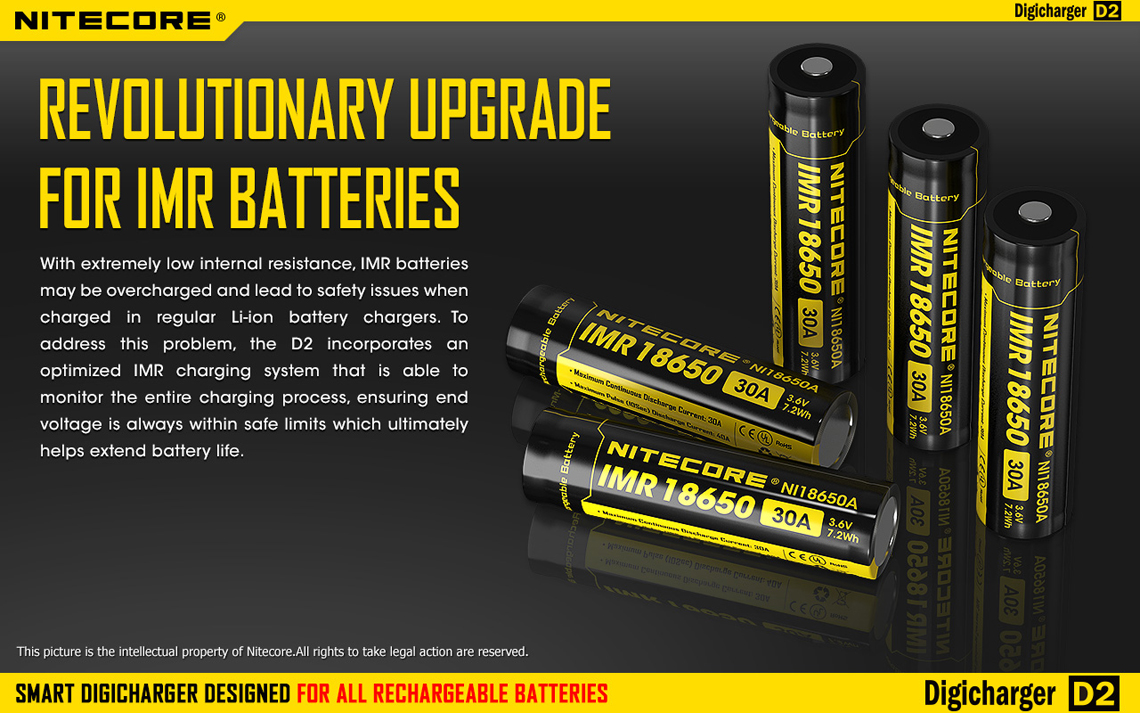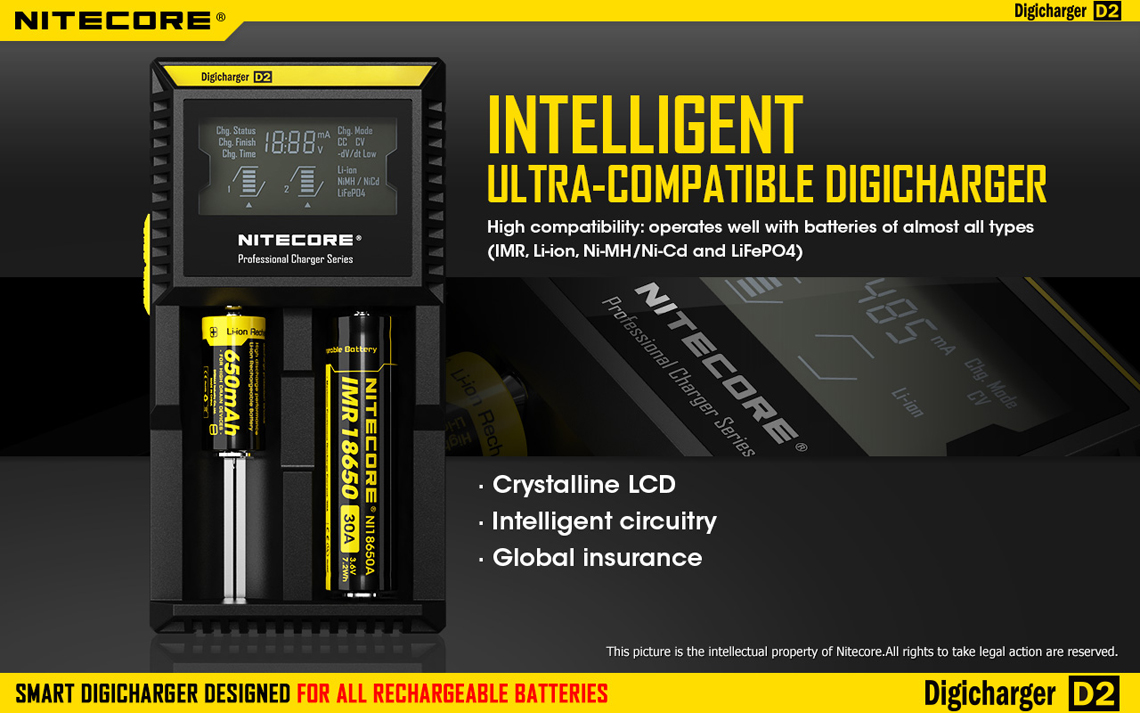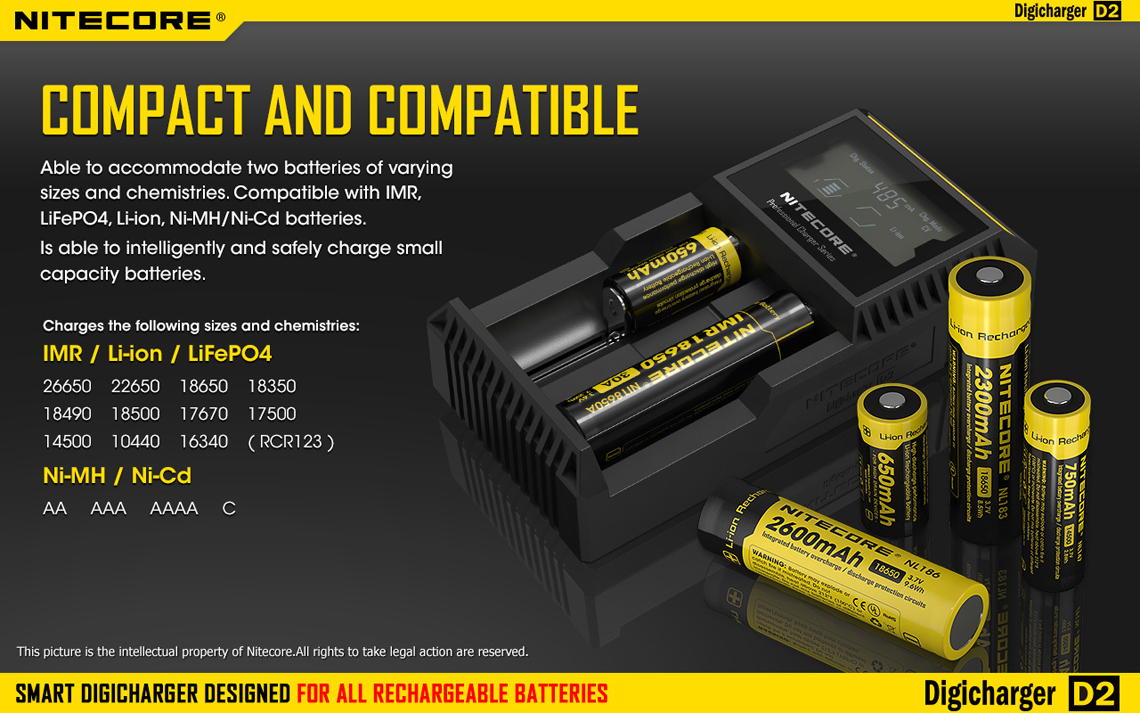 Warnings:
- Use Rechargeable Batteries or With PCB Batteries. Other types of batteries may cause personal injury.
- The D2 should only be used indoors or inside a motor vehicle and under no circumstances should it be exposed to water, high humidity and low or high ambient temperatures.
- Do not disassemble or modify the charger.
- Children under the age of 18 should be supervised by an adult when using the D2.
- The D2's safe operating temperature is between 0ºC--40ºC
- Do not use or store the charger near open flames, direct sunlight, heating devices or other high-temperature environments.

Get Reward Points (5% value of the price) on purchasing this product!!