Lightning Vapes - Stainless Steel Wire 316L (JAPAN Domestic Shipping)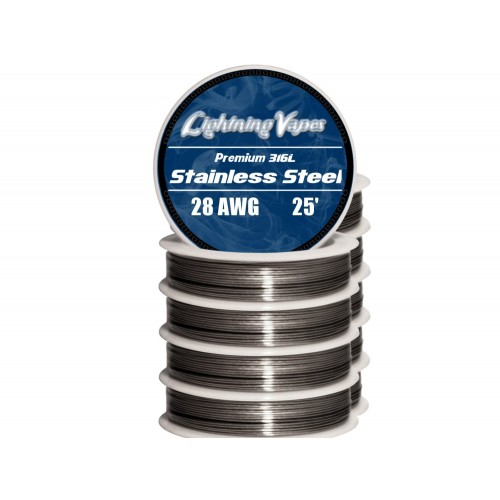 Excellent temp control wire which can be dry fired, from trustful Lightning!
Lightning Vapes is most popular wire vendor in USA and the wire is one of the best quality in the market.
This item is for JAPAN Domestic Shipping only
Lightning Vapes - Stainless Steel Wire 316L
Maker's Note
Stainless Steel 316L wire is a great temperature control wire. It can be dry fired to clean unlike titanium, and doesn't sag after dry firing like nickel.
The taste from stainless steel is also touted as one of the most crisp and clean out of any vaping wire.
It is not recommended to be used in wattage mode unless the resistance in ohms can be locked on the device.
This is because the resistance fluctuates when the wire is hot versus room temperature. Mechanical mod users however may use this wire, however care & proper understanding of ohm's law, as well as proper safety precautions for sub ohm vaping should be well understood.
This product is for advanced users only.

Click here to download TFR Table as CSV (for Evolve DNA chips via E-Scribe Software)

Specification
Size: 25 feet = 7.62m
Option
Gauge, Size:
22 Gauge AWG 0.64mm, 25 feet

24 Gauge AWG 0.51mm,, 25 feet
26 Gauge AWG 0.40 mm, 25 feet
28 Gauge AWG 0.32 mm, 25 feet
Shipping
Shipping From
JAPAN
E-Liquid
Size
25 feet
Get Reward Points (5% value of the price) on purchasing this product!!