Nude Nicotine Nicotine Base 100mg/mL ❄ USP Pharma 120ml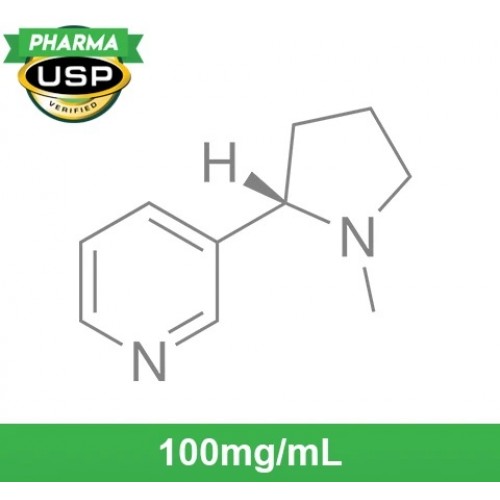 Use only as intended - Under age sales to minors are prohibited and subject to criminal and civil penalties.
INGREDIENTS: Vegetable Glycerin, Propylene Glycol, Natural and Artificial Flavors, and Nicotine.
CALIFORNIA PROPOSITION 65 WARNING: This product contains chemicals known to the State of California to cause cancer and birth defects or other reproductive harm.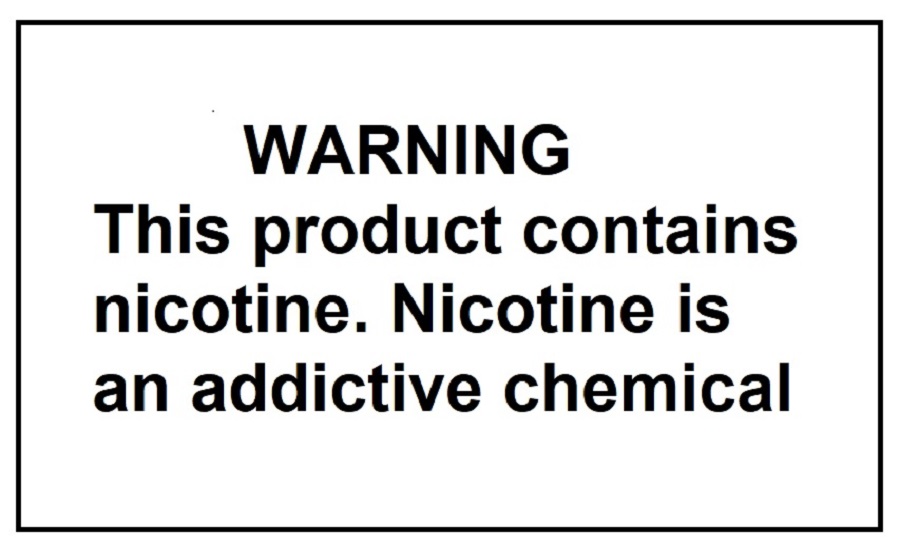 NOTE: E-Liquids shipped from Japan warehouse do NOT contain any nicotine
High Quality Flavorless Nicotine Liquid 100mg for DIY from famous nicotine maker, Nude Nicotine in USA

Nude Nicotine Nicotine Base 100mg/mL ❄ USP Pharma 120ml
Maker's Note
Our 100mg/mL pure nicotine base is solvated in USP-grade propylene glycol (PG) and USP-grade vegetable glycerin (VG) ready to be diluted and flavored. There is ABSOLUTELY NO taste, so flavor away to your liking and enjoy! This is the purest nicotine base on the market, and each quantity comes with certificate of analysis (CoA), guaranteeing its purity. Click here to view our most recent certificate :) We test each lot of nicotine under the USP34 protocol by GC/MS, the toxicology industry standard for purity analysis. We also ensure each package of our 100mg/mL nicotine base is adequately packaged and safely shipped to your door.

***Warning*** This product is for DIY use only. Nicotine strengths of this concentration must be dealt with using adequate personal protective equipment, proper ventilation, and appropriate containers for the diluted end-product.


NOTE from E-CIGDO:
E-CIGDO stores this products in a secure refrigerator till shipment for your order

Please be aware that 100mg nicotine concentrates must be diluted before use.
We strongly recommend storing our products in a secure refrigerator, and out of reach of small children and pets.

Size: 120ml
Made in U.S.A

Nicotine Level: 100mg (10.00%)
Specification
Please see "Specification" tab
Option
Blend Option: 100% PG, PG/VG 50%/50%

WARNING
THIS PRODUCT CONTAINS NICOTINE WHICH IS BOTH HIGHLY TOXIC AND VERY ADDICTIVE.
KEEP WELL AWAY FROM CHILDREN AND PETS. E-LIQUID IS ONLY INTENDED TO BE USED WITH YOUR ELECTRONIC CIGARETTES, E-CIGS, E-CIGARS, E-PIPES OR VAPORIZERS.
NOT FOR SALE TO ANYONE UNDER THE AGE OF 18 OR THE LEGAL AGE IN YOUR COUNTRY OF RESIDENCE.

Nicotine, in its pure form, when taken in high enough doses can kill.

FOR YOUR OWN SAFETY AND OTHERS AROUND YOU, PLEASE TAKE ALL NECESSARY PRECAUTIONS.

Please treat our nicotine e-liquids with the utmost care and ensure that you adhere to the following safety advice:

Keep e-liquid locked up, out of reach of children and pets at all times.
Seek full medical attention immediately in case of an accident, or if you feel unwell, and take this leaflet with you to your doctor.
Seek medical advice immediately if this product is swallowed.


CALIFORNIA PROPOSITION 65 - Warning: This product contains nicotine, a chemical known to the state of California to cause birth defects or other reproductive harm.
E-Liquid
Nicotine Level
100mg
Size
120ml
Get Reward Points (5% value of the price) on purchasing this product!!