Aspire Nautilus AIO Kit (JAPAN Domestic Shipping)
Aspire Nautilus AIO Ultra Portable Pod System presents a modernized 1000mAh all-in-one vape kit, integrated with the original Nautilus BVC Coil technology while implementing a 4.5mL maximum juice capacity with adjustable airflow control.
This item is for JAPAN Domestic Shipping only
Aspire Nautilus AIO Kit
Maker's Note
For all those fans of Aspire's Nautilus range of tanks, Aspire brings you the new Aspire Nautilus AIO pod system. Another new design pod system, slim and stylish it comes in 6 popular, satin finish, stylish colors: blue, jade, silver, black, red, and purple. The Aspire Nautilus AIO has an easy to fill 4.5 or 2ml pod, it fits comfortably in the hand in use and is very discreet. It utilizes Aspire's famous Nautilus BVC coils rated at 1.8 ohms and comes with a regular coil and a second one for use with nicotine salts.
Features
Replaceable Pod Design
4.5ml Maximum Juice Capacity
Soft-Touch Finish
Single Fire Button Operation - LED Backlit Light
Integrated 1000mAh Rechargeable Battery
Protective Drip Tip Top Cap
Bottom-Fill System
Micro-USB Port - 1A Max Charging Rate
Constant Output Wattage: 12W
Adjustable Airflow System
Aspire Bottom Vertical Coil (BVC) Technology
Compatible With Free Based & Nic Salt E-Liquids
Aspire Nautilus AIO Dimensions:
The Aspire Nautilus AIO sleek, ergonomic, palm sized design fits well into pocket or purse.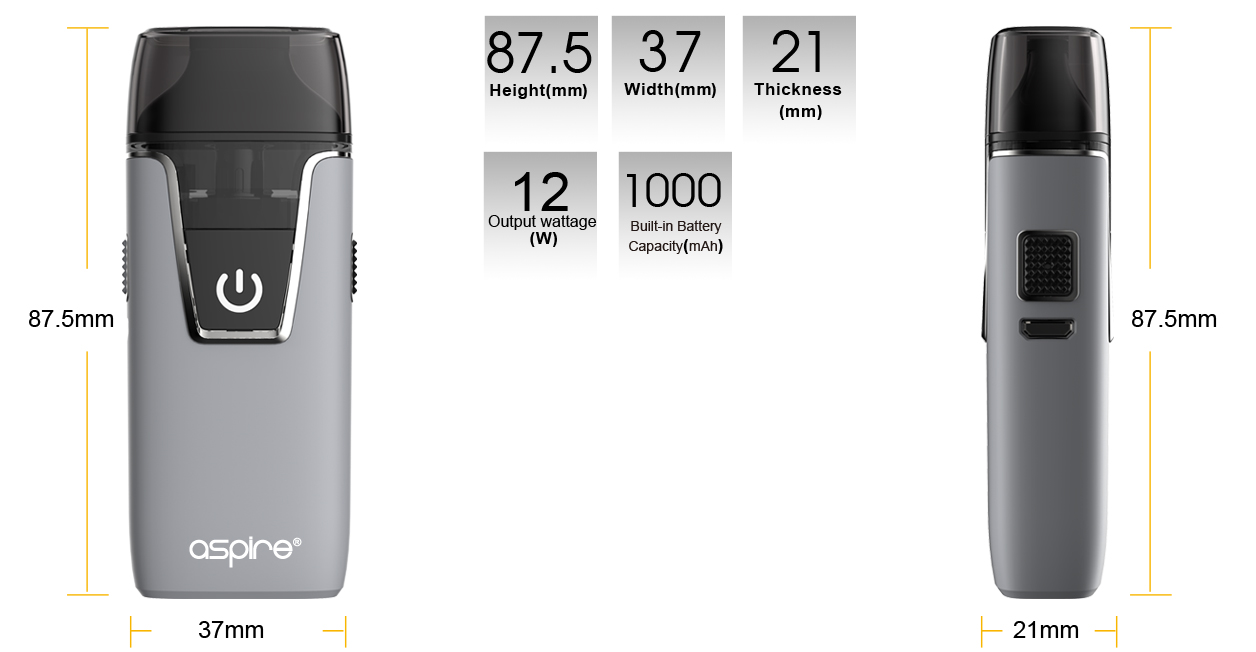 Aspire Nautilus AIO Exploded View:
Very simple in the number of parts ensures that there is little to go wrong with the Aspire Nautilus AIO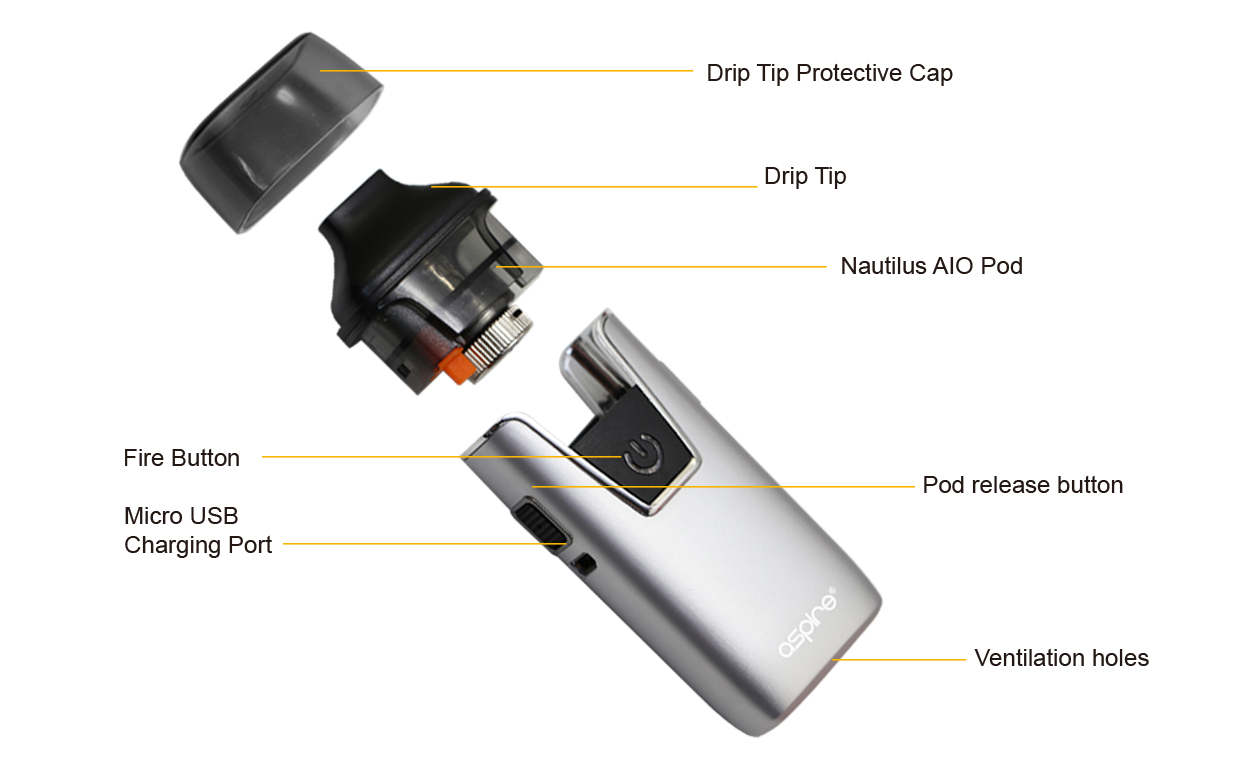 Aspire Nautilus AIO Airflow System:
In keeping with Aspire's vision of letting people choose their vaping preference, the Aspire Nautilus AIO has an adjustable airflow system to suit your vaping preference.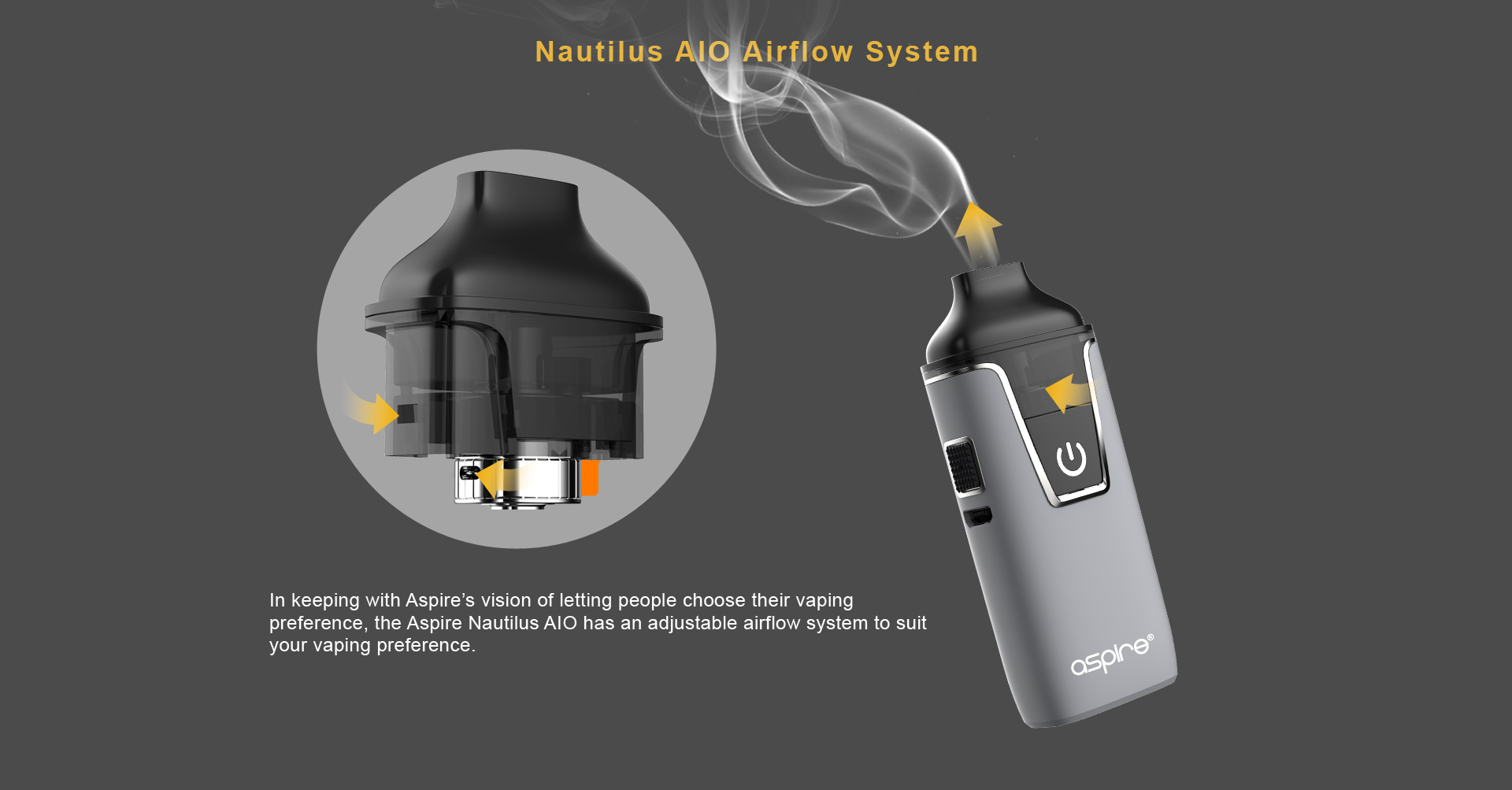 Aspire Nautilus AIO Atomizer:
The Aspire Nautilus AIO atomizer is the famous and popular Nautilus BVC coil, it also uses nichrome wire. The Aspire Nautilus AIO comes supplied with two coils both rated at 1.8 ohms, one for regular e-liquid and one for use with nicotine salts, though it works equally well with normal e-liquid.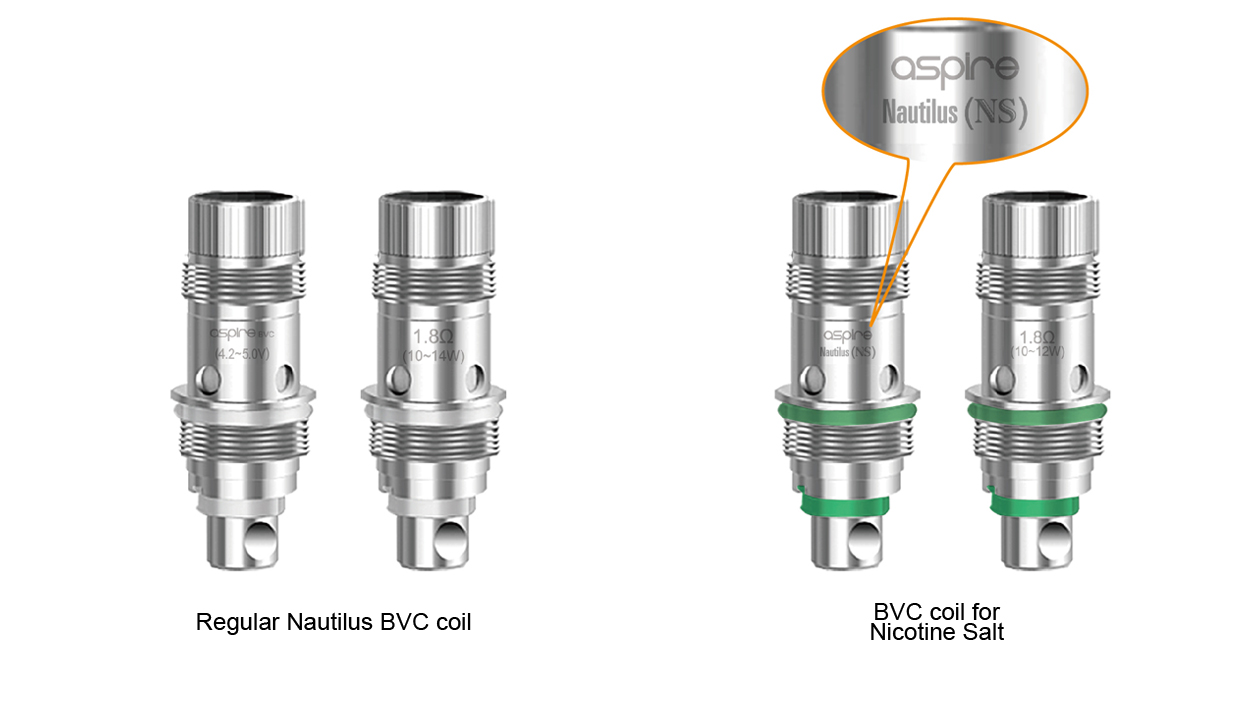 Aspire Nautilus AIO POD:
The pod in the Aspire Nautilus AIO is an easy to use bottom fill using a simple but effective silicone plug in the base of the pod, with a generous 4.6mm filling hole, to suit all types of e-liquid bottle.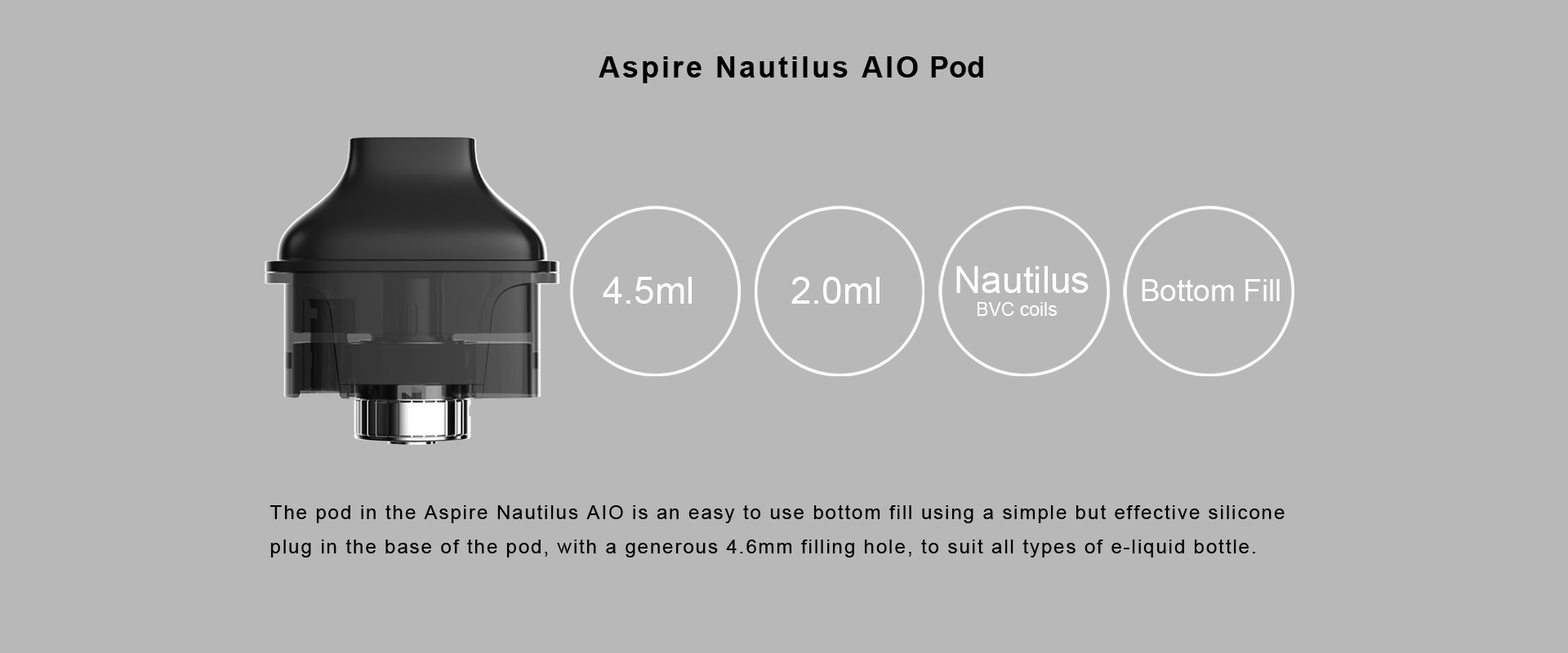 Coil Installation:
Whatever type of coil you use, the standard Nautilus BVC or the nic-salts Nautilus BVC, both are easy to install. Simply remove the pod by squeezing the side buttons on the device, then remove the pod and turn it upside down, remove the chimney unit and screw in your chosen coil. Replace the chimney unit with attached coil and reinsert into the pod. Push the pod back into the Aspire Nautilus AIO until it clicks.Note: when inserting a new coil and filling the pod, always let the device stand for 3 minutes to allow the coil to become saturated. This will help avoid dry hits and damage to the coil.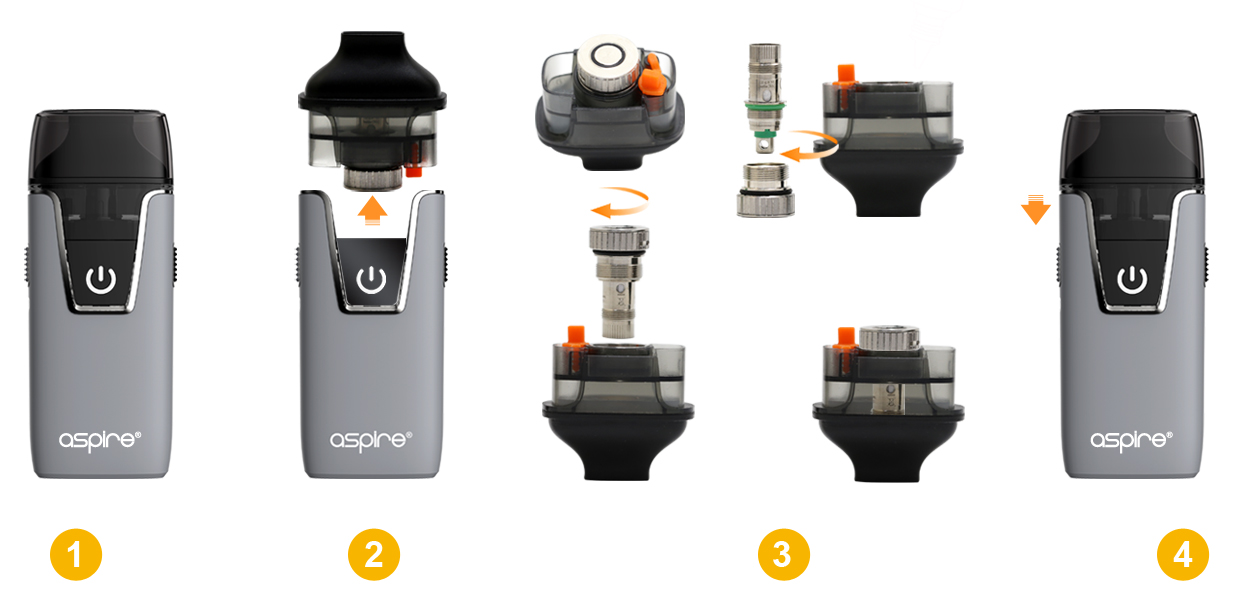 Aspire Nautilus AIO Filling:
Refilling the pod is super easy. Remove the pod from the device by squeezing the two side buttons, invert the pod and remove the silicone plug from the 4.6 diameter filling hole. Fill the pod with e-liquid, and replace the silicone plug securely. Replace the pod into the device by pushing down until it clicks into place, and it's ready.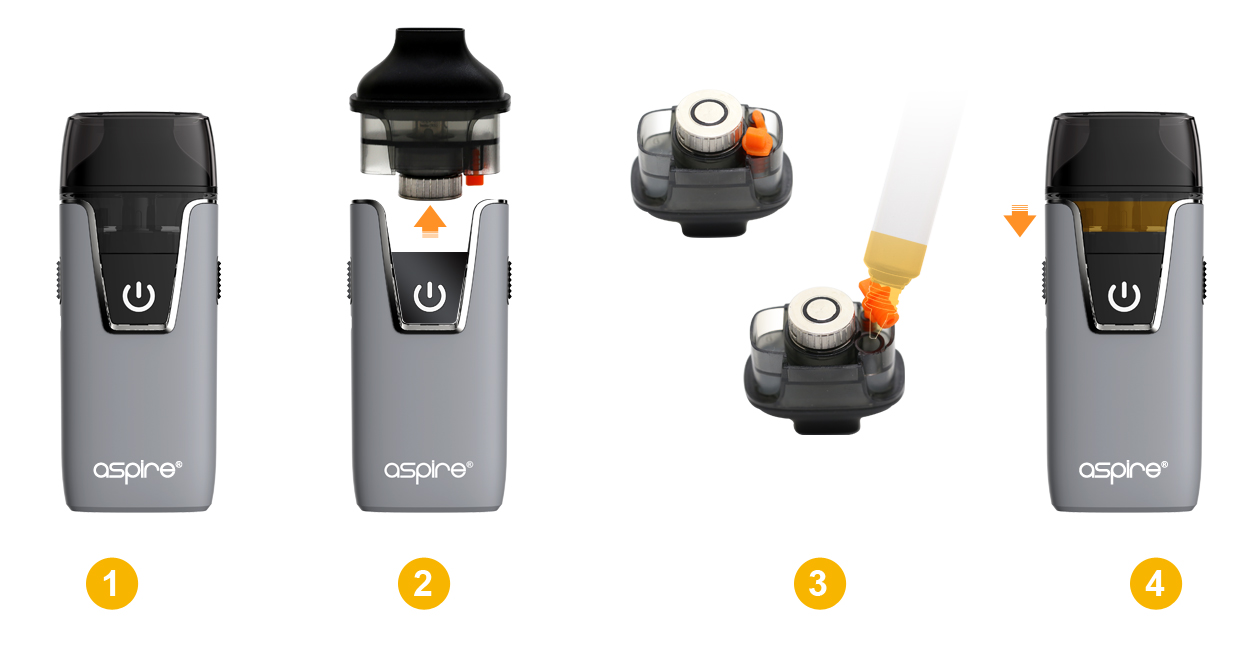 Charging:.
Charging the Aspire Nautilus AIO is also very simple. Just plug in the supplied micro usb cable into the side of the mod, attach the other end to a suitable power supply to charge. The maximum charge current can reach up to 1A. When attached to the usb with the power on the LEDs will flash blue and orange three times, when fully charges the LEDs will flash blue and orange twenty times then remain off.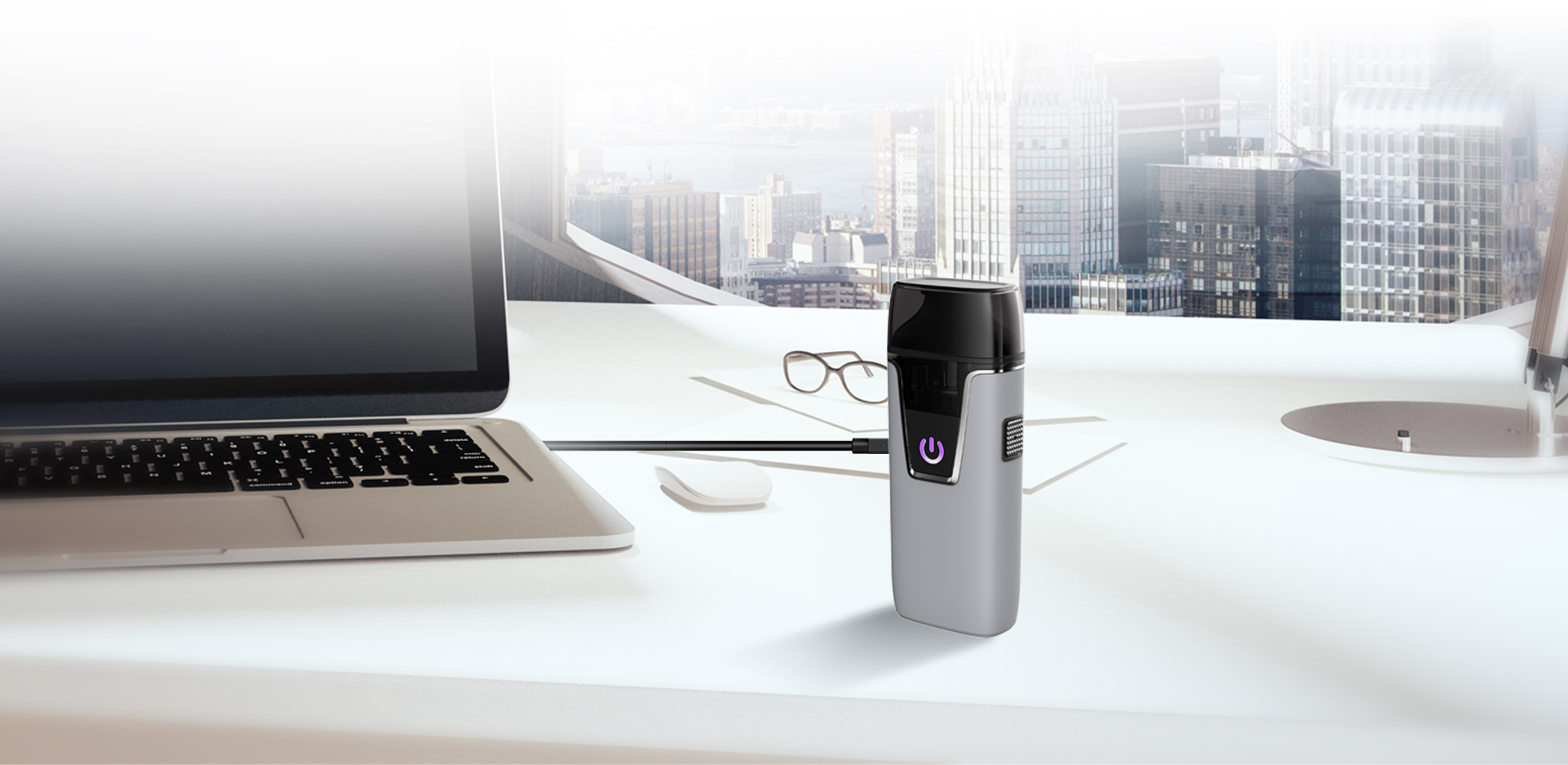 You Will Receive:
1 x Nautilus AIO device
2 x 1.8Ω coils (1 regular BVC & 1 for Nic Salt)
4 x Extra O rings
1 x Silicone seal
1 x Micro USB Cable
1 x Warranty Card
1 x User Manual
Option
Color: Please chose Color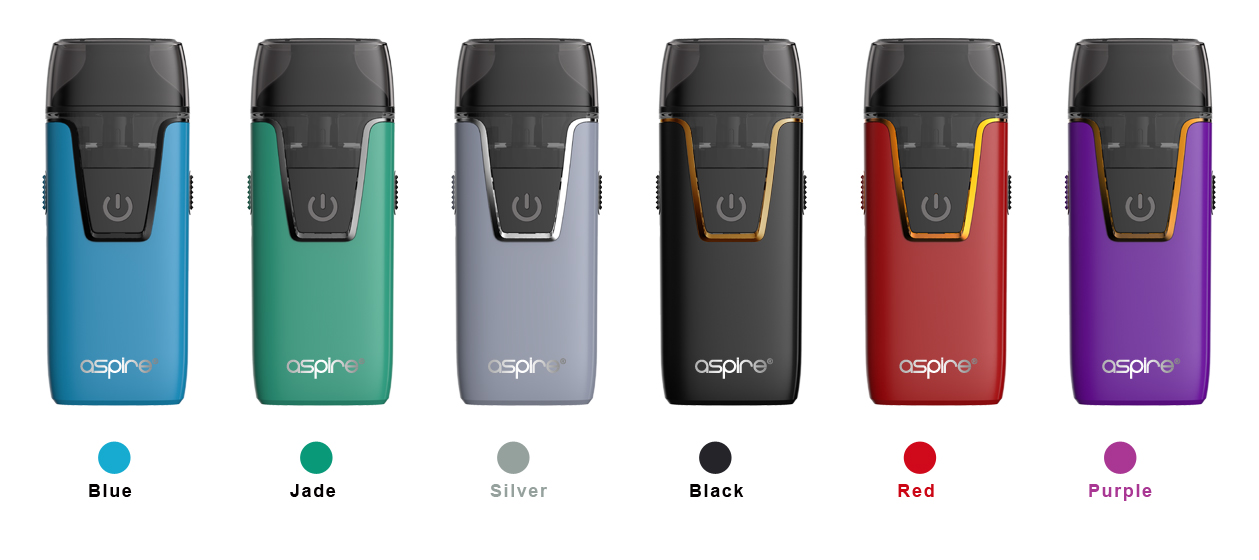 Aspire Nautilus AIO Coil - 1.8 ohm 5pcs/pack (shipping from USA) 5pcs/pack
Get Reward Points (5% value of the price) on purchasing this product!!