Dotmod dotSquonk 100W (JAPAN Domestic Shipping)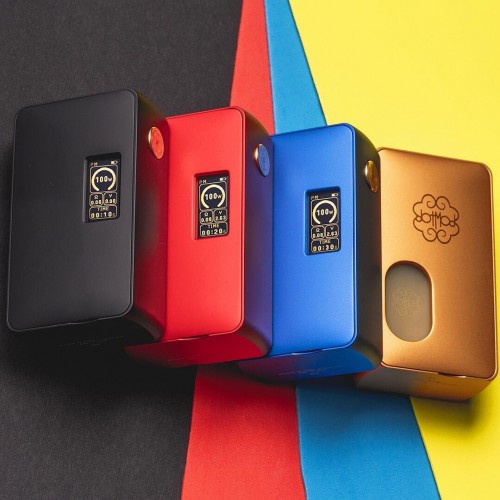 dotSquonk 100W, the regulated squonk you've been looking for!
This item is for JAPAN Domestic Shipping only
Dotmod dotSquonk 100W

Description
dotSquonk 100W. We've listened…

dotmod proudly presents the new regulated dotSquonk 100W! Equipped with the features you love in our award-winning mechanical dotSquonk, PLUS…

Proprietary dotChip
Our new 100W chipset offers all modes from our best-selling dotBox 200W, including bypass and curve mode, allowing you to dial in the perfect hit every time. Now featuring a deep-sleep mode which helps conserve battery power and eliminate unwanted auto shut-offs.

Customization
Stand out from the crowd with dotSquonk 100W's customization options including color matching or clear 8 ml bottles, customizable screen display, and interchangeable doors. Collect them all and sport a different combo every day!

Compatibility
The dotSquonk 100W is compatible with 18650, 20700, and 21700 batteries. Get Yours Now!

Modes
Power mode
Bypass mode
Curve mode
Nickel 200 temperature
Titanium temperature
Stainless steel temperature

You Will Receive:
1 x dotSquonk 100w
2 x Removable doors
1 x Charging cable
1 x 18650 Battery sleeve
2 x Juice Bottles (1 each clear/color)
1 x Certificate of authenticity
Option
Color Option: Black, Gold, Red, Royal Blue
*If you want to get colors not in stock, please contact us.
NOTE
*** This product is for advanced users only. ***

Improper use, transport, or storage may cause fire or explosion. Use at your own risk and take appropriate precautions when using this device.
Product Disclaimer
No claims, representations or warranties, whether expressed or implied, are made by E-CIGDO and Dotmod as to the safety, reliability, durability and performance of any of our companies\' products. Furthermore, E-CIGDO and Dotmod accept no liability whatsoever for the safety, reliability, durability and performance of any of products or content found within this site. In no event shall our company be liable for any direct, indirect, punitive, incidental, special consequential damages, to property or life, whatsoever arising out of or connected with the use or misuse of our products. By purchasing any product found within the content of our site, buyer agrees to hereby release and forever discharge E-CIGDO and Dotmod , their directors, officers, agents, employees, representatives, volunteers, attorneys, assigns, and affiliates from any and all claims and demands of whatever kind of nature, whether known or unknown, that arise out or are connected in anyway whatsoever with any first aid, medical treatment or services rendered a buyer because of buyer's use of the product. E-CIGDO and Dotmod will not be held responsible or liable for any injury, damage, or defects, permanent or temporary, that may be caused by improper use of any item found on our site or Dotmod . Please have a basic understanding of batteries and or any item found within this site and how to care for them properly.
Shipping
Shipping From
JAPAN
Get Reward Points (5% value of the price) on purchasing this product!!