Samsung 18650 2000mAh 20S Flat Top (JAPAN Domestic Shipping)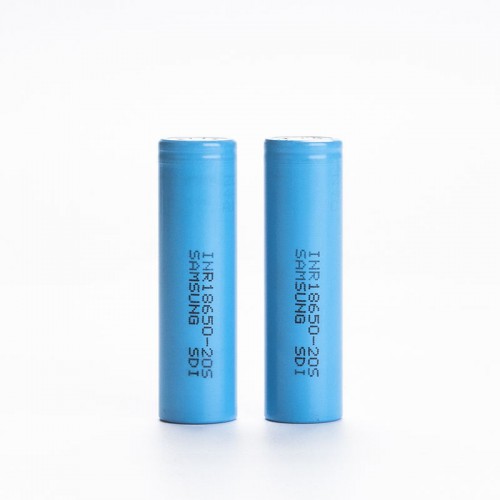 Hardest hitting 18650!
This item is for JAPAN Domestic Shipping only
AUTHENTIC Samsung 18650 2000mAh 20S Flat Top
Description
Hardest hitting 18650! (as of 2018 May) - Amazing capacity with high powerThe Samsung 20S is currently the hardest hitting 18650 battery available as of August 2018.

With its 30A 2000mAh rating, it easily outperforms HB6 and VTC6A.

You can view Mooch's testing here:
"This is a great performing cell. Until now the only 30A 18650's we had were the 1500mAh LG HB2/4/6.
The Samsung 20S not only has increased capacity over those cells but it performs MUCH better too, giving us a lot more vaping time at high current levels.

It hits harder than any other 18650 down to about 3.3V and appears to have a true 30A rating.

At lower current levels, under 20A or so, there are better higher capacity choices. But at 30A the Samsung 20S is the clear winner.
In the 20A-30A range it is a close race between the 20S and the VTC5A/5D/6A. You'll have to test them to see which performs better for the way you vape"

Specification
Brand: Samsung
Size: 18650
Model: 20S
Approximate Dimensions: 18.2mm x 64.8mm
Manufacturer Rated Capacity: 2000mAh
Manufacturer Rated Standard Discharge Capacity: 1900mAh
Manufacturer Rated Max Discharge Current: 30A
Nominal Voltage: 3.6V
Maximum Voltage: 4.2V
Protected: NO
Style: Flat Top
Color: Blue
Warnings:
- Do not overcharge or overdischarge
- Recharge drained batteries immediately
- Do not short circuit
- Do not dispose of in fire
- Do not expose to extreme heat or water
- Please be familiar with handling lithium-ion batteries before purchase

Shipping
Shipping From
JAPAN
Get Reward Points (5% value of the price) on purchasing this product!!