Coil Master COMP wire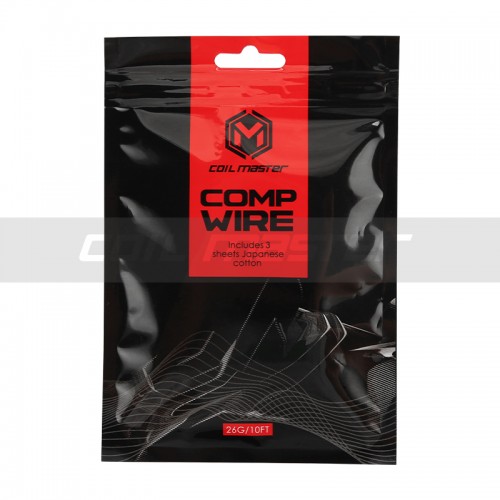 Current Shipping Promotion (Shipping from USA)
Domestic Discount Shipping discount over $30 order (US/DPO/APO/FPO only)
*Shipping rate is based on the weight and/or subtotal
International Shipping Discount! Over $30 Order
*Note1: Please refer to this page about shipping methods or contact us.
*Note2: Insurance policy does not cover the shipping or postage cost.
Write a Product Review and get reward points!
* Reward points 50 points or more are granted once Review is approved
* Reward points are granted to the review for product you purchased.
Made from Fe-Cr-Al-Si alloy, this could ramp up faster and produce bigger clouds!
Coil Master COMP wire
Maker's Note
Coil Master Comp Wire is made from Fe-Cr-Al-Si alloy. Each roll includes 10 feet of wire.The new Coil Master Comp Wire was specifically designed for advanced users who desire dense vapor production and pure flavor.With a larger heating area and lower resistance when compared to other wires it offers bigger clouds and faster ramp up time!
You Will Receive:
1 x 10ft/3m COMP wire
3 x Japanese Cotton
Option
Coil AWG: 22ga, 24ga or 26ga
Features
Global SGS quality & safety certified
1600 ℃ Melting point, strong and sturdy
Faster heating up
Refreshing and clean look after dry burning
Get Reward Points (5% value of the price) on purchasing this product!!