Halo Mints & Menthol Sample Pack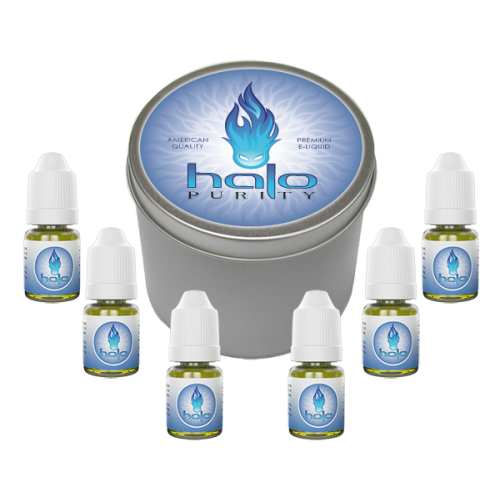 Current Shipping Promotion (Shipping from USA)
Domestic Discount Shipping discount over $30 order (US/DPO/APO/FPO only)
*Shipping rate is based on the weight and/or subtotal
International Shipping Discount! Over $30 Order
*Note1: Please refer to this page about shipping methods or contact us.
*Note2: Insurance policy does not cover the shipping or postage cost.
Write a Product Review and get reward points!
* Reward points 50 points or more are granted once Review is approved
* Reward points are granted to the review for product you purchased.
If you like menthol taste, this is a sample pack you must try!
Halo Mints & Menthol Sample Pack
Maker's Note
Our Menthol E-liquid Sample Pack is sure to meet your expectations in getting the crisp, clean mint menthol flavor you're looking for. We have handpicked our most distinguished menthol blends and included them in this sampler.

- 10ml SubZero
- 10ml Mystic
- 10ml Menthol ICE
- 10ml CoolMist
- 10ml Menthol V
- 10ml Kringle's Curse
Specification
Please see "Specification" tab
Option
Nicotine Level: Please chose Nicotine Level
Features
American Made Blend
USP Grade Ingredients
Premium Flavorings
Safety Sealed
Shop Comment
The pack includes 10ml bottles x 6 flavors
E-Liquid
Size
10ml x 6 bottles
Get Reward Points (5% value of the price) on purchasing this product!!