Puff Plus Cool Mint * Authentic *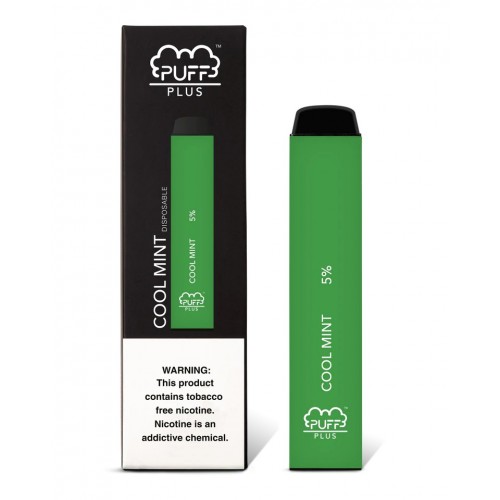 Puff Plus is a new pre-filled disposable device that is bigger and better than ever all while maintaining its compact size and portability.

Puff Bar Plus Cool Mint
Maker's Note
A refreshing cool sensation for all the Mint lovers out who will be particularly excited about this one. This take on classic flavor takes the icy mint many of us love and ramps it up for a new experience that stays true to its origins. You'll love the menthol flavor as it mixes perfectly with an added sweetness that's both smooth and refreshing.

Sporting a 550mAh battery and direct draw system, the Puff Bar PLUS has enough power to deliver excellent flavor without any charging or complicated settings. PUFF PLUS has double the PUFFS, making it the longest-lasting disposables out in the market. Just inhale to fire up the pre-filled device. After your PUFF BAR PLUS runs out of juice and/or battery, simply buy a replacement.

Each PUFF PLUS disposable device comes with a pre-filled 5% (50mg) of salt nic that is enough to stay satisfied for the whole day.
* Authentic guaranteed as we are a direct partner of Puff Bar company

Specifications and Features
Disposable Device requires No Maintenance, Charging or Refilling
Pre-Filled: 3.5mL Salt Nic
Internal Battery: 550mAh
Pre-charged, Simply puff on the device to activate
Pre-filled, no need for messy refills
Salt Nicotine: 5%, (50MG) Salt Nic inside for an accurate cigarette-style throat hit
Up to around 800 Puffs per disposable, -- approximately equivalent to 2 pack of cigarettes (40 cigarettes)
Compact and Portable
You Will Receive:
This product includes:
1 x Puff Plus Cool Mint (Disposable Device)

Get Reward Points (5% value of the price) on purchasing this product!!