Halo VICE Disposable Device
The Vice disposable device is here to deliver convenient, on the go, hassle-free vaping. Each Vice comes fully-charged, filled with top Halo flavors and ready to use. No filling, no charging, no hassle! Just Open. Vape. Repeat.
Halo VICE Disposable Device
Maker's Note
OPEN-VAPE-REPEAT.
All in a Vice that's perfect for the smoker who's looking for a better and easier option. Your new Vice, a disposable vaping device, comes pre-filled, fully charged and ready to satisfy by replacing one pack at a time.


Each box contains:
1 x Vice Pre-filled Vaping Device
(230 mAh/ 1.8-ohm coil resistance)
Nicotine: 50mg/ml (5.0%)
Volume: 1ml

Available Flavors:
Subzero Menthol
An e-liquid that exhibits an intense, cool mint effect more powerful than any of our other menthol flavors. With its superior vapor production and a glacier-fresh finish, you can chill with the frigid flavor of SubZero all day.

Mango Mint
Juicy golden mangoes have been spun with sweet, cooling mint for an exhilarating, all-day vaping experience.

Vanilla Custard
This sweet vanilla treat delights the senses and turns Vanilla Custard into an incredible e-liquid full of creamy dessert flavor.

Tribeca
A renowned e-liquid that stands alone among all others, Tribeca has set the industry standard with the flavor of smooth, transcendent tobacco harmoniously blended with the perfect hint of vanilla and caramel to generate an exquisite, sweet finish.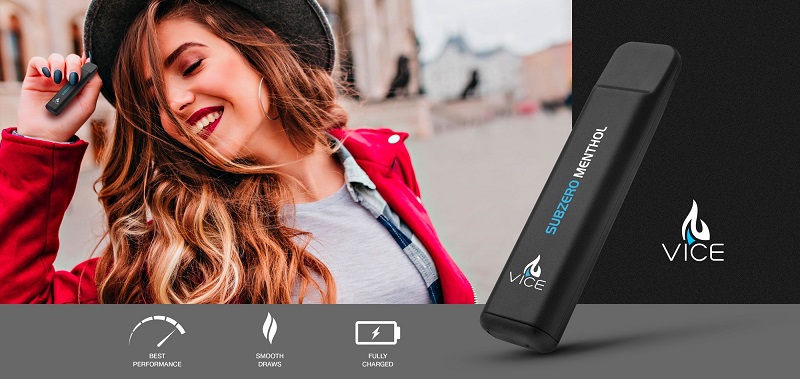 You Will Receive:
This product includes:
1 x Vice Pre-filled Vaping Device (Disposable)

Get Reward Points (5% value of the price) on purchasing this product!!