Cotto's Revenge Bourbon Custard 60ml (JAPAN Domestic Shipping)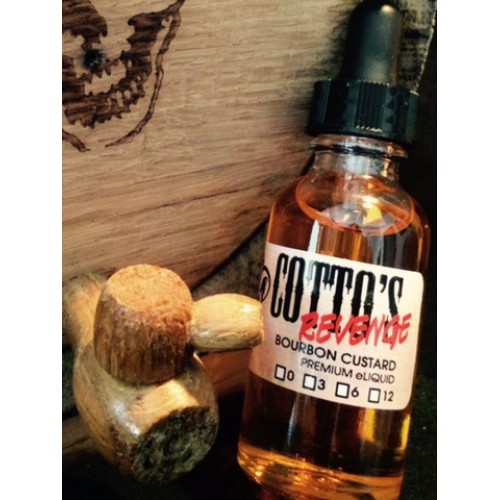 Current Shipping Promotion (Shipping from USA)
Domestic Discount Shipping discount over $30 order (US/DPO/APO/FPO only)
*Shipping rate is based on the weight and/or subtotal
International Shipping Discount! Over $30 Order
*Note1: Please refer to this page about shipping methods or contact us.
*Note2: Insurance policy does not cover the shipping or postage cost.
Write a Product Review and get reward points!
* Reward points 50 points or more are granted once Review is approved
* Reward points are granted to the review for product you purchased.
Japan Domestic Shipping
WOW. One of best e-liquid in the market *** Highly Recommended ***

Cotto's Revenge Bourbon Custard 60ml
Description
Signature blend, flagship juice is a Classic Kentucky Bourbon sweet cream custard with toasted almond and a hint of coconut.
Like all Cotto's Revenge flavors, it has been oak barrel aged for 2 weeks to finish the flavor, and ensure that it is ready to vape fresh from the bottle.
NOTE: Bottle Type: Chubby Gorilla Bottle 60ml
Specification
Please see "Specification" tab
Shipping
Shipping From
JAPAN
E-Liquid
PG/VG Blend
Max VG
Size
60ml
Get Reward Points (5% value of the price) on purchasing this product!!