Flavorless Nicotine Liquid 100mg 120ml
Use only as intended - Under age sales to minors are prohibited and subject to criminal and civil penalties.
INGREDIENTS: Vegetable Glycerin, Propylene Glycol, Natural and Artificial Flavors, and Nicotine.
CALIFORNIA PROPOSITION 65 WARNING: This product contains chemicals known to the State of California to cause cancer and birth defects or other reproductive harm.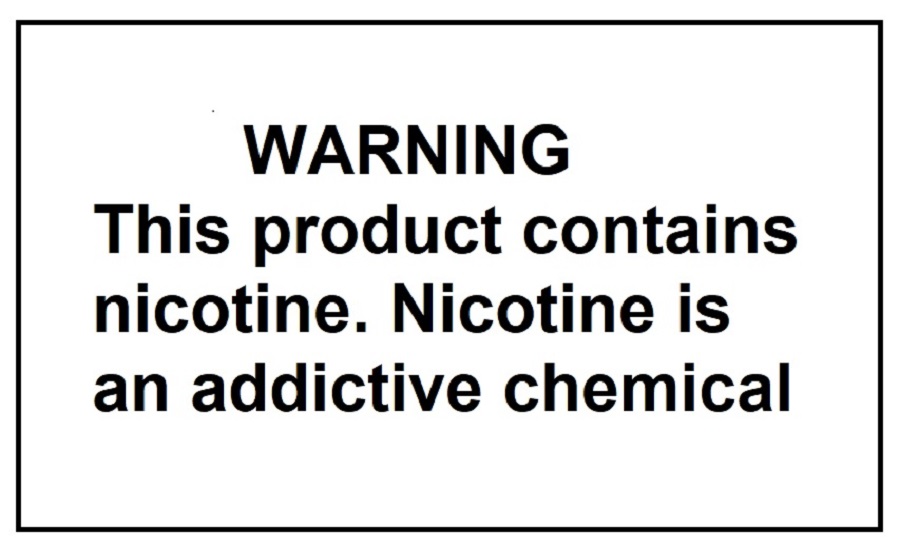 NOTE: E-Liquids shipped from Japan warehouse do NOT contain any nicotine
High Quality Flavorless Nicotine Liquid 100mg for DIY. Great Value!

Flavorless Nicotine Liquid 100mg 120ml
Description
This Flavorless Nicotine 100mg is sourced from very reliable DIY nicotine liquid wholesaler, "Liquid Nicotine Wholesalers"(LNW), pre-blended to precision pharmaceutical grade Propylene Glycol (PG) and/or Vegetable Glycerin solutions. LNW offers a complete line of unflavored nicotine base solutions in a variety of concentrations, but LNW 100mg liquid nicotine extract is perhaps most popular by far. Naturally extracted from real tobacco leaves and laboratory verified for purity, LNW 100mg liquid nicotine is pure, clean, and tasteless.

LNW ensures that all products exceed USP compliance standards. A batch number is assigned to all nicotine products.

With a dedicated focus to quality, uniformity, and safety, LNW specifically manufactures this 100mg nicotine liquid to produce the smoothest possible throat hit without muting the flavorings of your E-juice recipes. And like each of LNW unflavored nicotine base solutions, this 100mg nicotine extract is 100% tasteless.
Each of LNW unflavored nicotine liquid base solutions contains only the highest quality USP Kosher Vegetable Glycerin (VG) and/or Propylene Glycol (PG).

LNW premium 100mg nicotine liquid is simply unmatched. What sets LNW apart from all the rest is that LNW liquid nicotine solutions undergo a grueling manufacturing and testing process before LNW allows them to be shipped to your doorstep.
Here is an outline of the processes Liquid Nicotine Wholesalers nicotine solutions undergo.
Step 1: Nicotine undergoes an extraction process using all-natural tobacco leaves.
Step 2: Once the purity qualifications exceed USP standards, a batch number is assigned, and the results are compiled to make the certificate of analysis.
Step 3: The nicotine extract is then sent to a third-party team of expert chemists who independently analyze and verify the results using state-of-the-art Gas Chromatography Mass Spectrophotometer (GC/MS) technology and procedures.
Step 4: The third-party team conducts these testing and verification procedures to ensure the highest levels of purity, quality, and safety.
Step 5: Team of in-house technicians then formulate and blend the nicotine with propylene glycol or vegetable glycerin of your choice.
Step 6: Team then conducts a series of meticulous testing procedures to verify the nicotine concentration levels of each nicotine product.
Step 7: All products are carefully monitored to ensure the highest levels of purity, quality and safety before quick shipment right to customer's doorstep.
Step 8: LNW delivers all liquid nicotine products in laboratory standard HDPE-compliant containers to avoid the risk of bottle breakage and contamination during the shipment process.
For the manufacturing of premium-grade flavorless nicotine liquid, this pre-blended 100mg liquid nicotine extract simply can't be beat. It's tasteless and smooth, which means that your flavoring combinations always remain crisp, clean, pure, and unmuted.

(NOTE: E-CIGDO stores this products in a secure refrigerator till shipment for your order)

Please be aware that 100mg nicotine concentrates must be diluted before use.

NOTE:
We strongly recommend storing our products in a secure refrigerator, and out of reach of small children and pets.

Size: 120ml
Made in U.S.A

Nicotine Level: 100mg (10.00%)
Specification
Please see "Specification" tab
Option
Blend Option: 100% PG, PG/VG 50%/50%

WARNING
THIS PRODUCT CONTAINS NICOTINE WHICH IS BOTH HIGHLY TOXIC AND VERY ADDICTIVE.
KEEP WELL AWAY FROM CHILDREN AND PETS. E-LIQUID IS ONLY INTENDED TO BE USED WITH YOUR ELECTRONIC CIGARETTES, E-CIGS, E-CIGARS, E-PIPES OR VAPORIZERS.
NOT FOR SALE TO ANYONE UNDER THE AGE OF 18 OR THE LEGAL AGE IN YOUR COUNTRY OF RESIDENCE.

Nicotine, in its pure form, when taken in high enough doses can kill.

FOR YOUR OWN SAFETY AND OTHERS AROUND YOU, PLEASE TAKE ALL NECESSARY PRECAUTIONS.

Please treat our nicotine e-liquids with the utmost care and ensure that you adhere to the following safety advice:

Keep e-liquid locked up, out of reach of children and pets at all times.
Seek full medical attention immediately in case of an accident, or if you feel unwell, and take this leaflet with you to your doctor.
Seek medical advice immediately if this product is swallowed.


CALIFORNIA PROPOSITION 65 - Warning: This product contains nicotine, a chemical known to the state of California to cause birth defects or other reproductive harm.
E-Liquid
Nicotine Level
100mg
Size
120ml
Get Reward Points (5% value of the price) on purchasing this product!!